I just saw that they made The Giver by Lois Lowry into a movie!  I haven't read the book since 8th grade, but I decided in order to watch the movie I wanted to re-read the book so I could better compare the two.  Side note: I usually think that re-reading a book is a waste of time when you could be reading something new.  I still somewhat believe that, but I have definitely changed my tune a bit since beginning Adolescent Literature.  What's your opinion about re-reading books?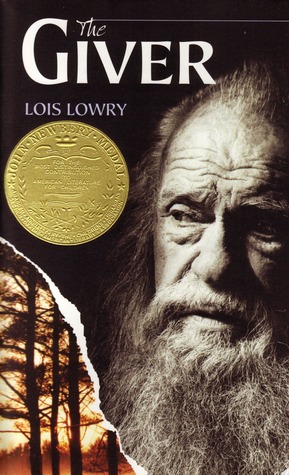 This is a somewhat short book (less than 200 pages), so I'm already almost done with it and I've only read it for about 3 hours.  So instead of pulling quotes from the book and predicting what's going to happen in this week's Teaser Tuesday, I'm going to pull my two favorite quotes and tease you all with them so you want to read the book!
"We thank you for your childhood."
Dark, eh?  Someone's childhood is gone… but at least they've been thanked for it?  I won't keep the fact that this book is somewhat of a downer secret.  But right now dystopian literature seems to be all the rage, so if you're in the fandom of The Hunger Games and whatnot, I'm sure you'll love this book and the children who are no longer children while they're still children…  And if you're into futuristic/sci-fi type of books then you'll love this one more than likely, too!
"Today is declared an unscheduled holiday."
Now if that doesn't give away the fact that the world is perfect in this book, I don't know what will.  Just kidding 🙂 We have holidays, sure.  But we get to do whatever we want to on our holidays.  You want to blow stuff up and eat more hot dogs than take breaths?  Have at it on the 4th of July (or any other day you wish because you're independent and have rights!)  But in poor Jonas' world an 'unscheduled holiday' means no bike riding, playing, or lounging around.  You go inside and you stay inside until the 'unscheduled holiday' goes away and your 'typical' day resumes.  The book's controversial, but a magnificent read.