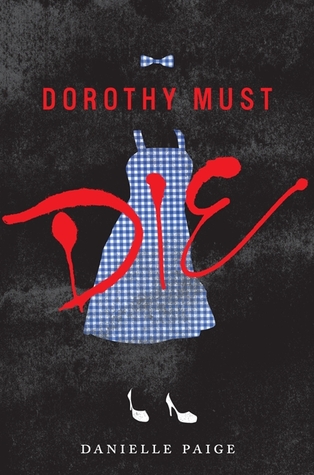 I am so glad that we had the assignment to discover how social media can add to our YA general knowledge and book repertoire.  I honestly had never thought of using Pinterest to get recommendations for new reads, but now I'm glad I am!  It's so helpful.
Last week I discovered Dorothy Must Die by Danielle Paige.  This book reminded me of The True Story of the Three Little Pigs by Jon Scieszka.  In this children's story, the big bad wolf gives his side of the classic tale.  The way that he retells the events makes the three little pigs look like the bad guys and the wolf looks like the victim.  In Dorothy Must Die, everything in Oz has gone to pot since Dorothy.  The girl with the ruby slippers has caused a lot of chaos in Oz, and everything we know from the original story is not entirely true.  Unlike The True Story of the Three Little Pigs, it is not be the wicked witch who has to clean up the mess.  However, it is a new recruit from the Revolutionary Order of the Wicked, Amy, who must take back all of the gifts the tin man, lion, and scarecrow received from the great and powerful wizard, and then kill Dorothy.
I love stories like this.  When someone creates a new adaptation of a classic fairy tale or fable, I am usually so in love with it.  How fun is it to think that Dorothy was actually evil, and that those who were deemed as wicked were not necessarily?  I would give this take of the Wizard of Oz 3 out of 5 stars.  There were parts of the book that I loved, and parts that I was not so wild about.  It has a lot going on, and ends with a cliffhanger.  It's also rather long, so it takes a while to get through.  It was an interesting idea, but there were definitely parts that I would change if I could.  But if you like unique fairy tale retells, then you should check it out!!